Pioneer News
An Ezine Which Keeps you Informed
American Pioneers Series
Camp Family of America

By Jeannette Holland Austin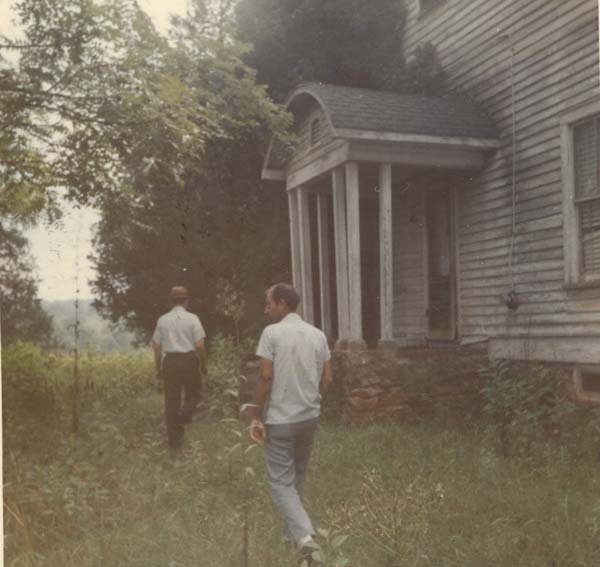 Thomas Camp (1717-1798) is the progenitor of the Camps in America. This prolific family traces its roots from England to Virginia, North Carolina, South Carolina, Georgia and Alabama. Thomas (above) settled in Rutherford County, North Carolina. He had 12 children by his first wife and 12 by his second wife. No matter where they settled, the Camps were pillars of the community, many of them Baptist and Methodist preachers. Prominent Virginia families associate with the Camps, such as Sherwood, Marshall and Tarpley.
Camp Home near Rutherfordton, North Carolina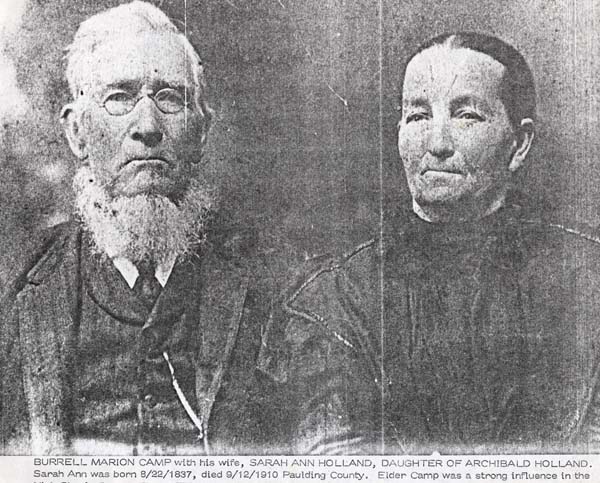 A colorful character was Burrell Marion Camp, a Missionary Baptist preacher of 40 years at the High Shoals Missionary Baptist Church in Dallas, Georgia. His church was a one-room building located on High Shoals in Dallas, which also doubled for a school. His members were baptised under a waterfall, just steps away from the old cemetery where he is buried.
Burrell Marion Camp and his 2nd wife, Elizabeth Holland
For more information, the Camp book by Jeannette Holland Austin is online at www.genealogy-books.com. The following are online in the genealogy section of www.georgiapioneers.com -Camp Bulletin; Camp-Leigh Family of Coweta County; John Arthur Camp of Coweta County; Hiram Camp of Gwinnett County; Descendants of Thomas Camp of Virginia; Micager Camp; Nathan Camp (Campbell County deed). Also, see Kemp-Camp, Volume 1 and 2 by C. C. Camp (no longer for sale, but in some libraries)
How to Trace Your Family Tree...free, may be distributed, copied, etc.
BAILEY. Hey there. I'd like to find the childhood homeplace of my maternal grandmother and that of her mother. Both were of Screven County and the small town of Cooperville is named for my grandmother's mother's family. I don't know how it came to be named for them, and I'd like to know that too. My grandmother was Sarah Ellizabeth Bailey. I am able to find census records in Savannah. I have also seen entries for Laura Cooper and, later, Laura Cooper Bailey of Screven Co. This was her mother. On the Georgia pioneers site I see refernece to wills made by Coopers of Screven Co., and I suppose these must be ancestors, but I'm not sure. My paternal grandfather's family is much easier to track: Brick church at Millhaven and Midway Church in Liberty Co. They were Lines.
DEADIMMA HENDLEY HARRIS. Looking for info on this woman, she came to GA from VA in 1777 or thereabouts. She had one son Hendley Harriss/Harris any info appreciated.
E-mail me
GUTHRIE. William Guthrie came into Coweta Co. GA about 182?, probably with sons William J. and James Martin Guthrie (probably other family members). In 1828, son William J. married Hannah Weaver, a widow from Wilkes Co. GA in Coweta Co. Hannah, whose maiden name was Snyder, apparently originated in Edgefield Co. SC, where William J. was born. When she married William J., she brought two sons, John and William Weaver with her to Coweta Co. Can anyone provide information about William and his ancestors? Richard and Kay Guthrie [543kay@charter.net]
RIVERS. I got your e-mail address via your blog. I am researching two families in Georgia. I have been trying to find a wills or any documents on them. Any advice or help you could give me would be most appreciated. If you have the time to read the specifics of my research please continue reading below: Though I have been researching my African American family since 1980, I have not been able to find direct reference to my Georgian ancestors prior to the 1870 US census. On an unrelated note, I have had luck on several of my ancestors in the North Carolina region where I've discovered their slave owners and documents that mention them. Yet my RIVERS family in Wilkinson county, Georgia has not gone beyond my suspicion the Joel RIVERS as the possible slave owner. I can not find a Will or any documents from him. The other Georgian ancestor was still listed in the household of the possible widow of the slave owner. The very possible slave owner was Samuel BROWN born 1792 in North Carolina and died May 1863 in Wilcox county, Georgia. Samuel BROWN's wife was name Honor MILLER born 1804 and died Apr 6, 1878 in Wilcox county, Georgia. My GGG Grandfather Abner BROWN and his wife and two children was still living in Honor BROWN's household in Wilcox county, Georgia during the 1870 US census. Thank you for having read my research. Any thoughts, resources and or help will be Greatly Appreciated!
Allen McClain
Reply from Jeannette Austin: I have added your information to the Pioneer Newsletter which is distributed about once a week to over 6,000 subscribers. Also, put you on the email list (free). Perhaps someone can help you. You might try Laurens County as I have found that a number of Wilkinson County people recorded deeds, estates, etc. there. I would search Wilcox, Wilkinson, Laurens Counties: deeds, estates, inventories, etc., everything that county has. Good luck!
DOZIER. Hello, Doing a little research and wanted to know if you had any information on a Dozier Thornton. My father (William F. Thornton) who died a few years ago in his 80's use to talk about his grandfather who had one leg (perhaps diabetes). . . Dozier Thornton. The only thing that he remembered was that the family lived in Stewart County Georgia. Dozier Thornton was a slave who later became free and purchased a large sum of land. Dozier had a brother named John whom he lost contact with. My father's mother's name was Gussie and her mother's name was Ollie. Ollie had siblings named Rosie, John, Mattie, Josie, etc. I know that Josephine was the youngest or my daddy use to say they called her Dozier's baby girl. I think Dozier's wife's name was Heidi or something. If you have any info. I would appreciate it if not thanks for taking time out. Marjorie Thornton Bostic, MPH , Health Planning Specialist, Oklahoma State Department of Health, Health Resources Development Service, 1000 NE 10th Street, Oklahoma City, Oklahoma 73117, Office: 405-271-6868 Fax: 405-271-7360
Reply from Jeannette Austin: See
The History of Stewart County
by Terrell. There are some Thorntons in those 2 volumes.
HOLLAND. My brickwall is William M. Holland b. 4-4-1826 d. 7-2-1885. He was born in S.C. and died in Ark/Texas, right on the border. He married Mary Chappelear b. 12-18-1830 in Ga. Died 4-14-1887.. They had 11 children...4 boys, 7 girls. One of their sons was Thomas Jefferson Holland born 1857 in Ga. and died 1937 in Texas. I have Mary Chappelears family traced way back. But nother on William. All I know about him is that his father was from Virginia and his mom was from S.C. Thanks for anything. Jimmy Holland, Atlanta, Texas. Email: jlholland@aep.com
Hi,I saw in the newsletter that you allow free advertising and I was hoping you would accept my submission. I have started the first social network site SPECIFICALLY for genealogy/genealogist, its like myspace/facebook but without all the crap that goes along with those sites. We are a little over a month old and already at 570 members. Its completely free and we are trying to get the word out about it (which Im sure you know is difficult in the genealogy community, everyone always thinks your spamming lol) Check us out at http://www.ancestralspace.com and hopefully it will meet your submission requirements for the free advertising :) If not, well then just come on by and make yourself a page anyway!! We'd love to have you. Shannon, Owner AncestralSpace
Albritton of York County, Pedigree Chart
Bacon of New Kent County, Pedigree Chart
Bibb Pedigree Chart
, Pedigree Chart
Bowles of Hanover County, Pedigree Chart
Bullock o f Warwick County, Pedigree Chart
Burnett, Thomas, descendants of
Burroughs, George, descendants of
Camp, 2 pp.
Carmichael, Archibald, descendants of
Carr, John Fendell of Albemarle County
Cole, Francis, descendants of, 3 pp.
Corley of Bedford County, Pedigree Chart
Daniell of Middlesex County, Pedigree Chart
Elam Pedigree Chart
Harrison of Stafford County, Pedigree Chart
Hart of Hanover County, Pedigree Chart
Haslewood, Research Notes, 5 pp.
Hollyman of Isle of Wight County, Pedigree Chart
Johnston of Isle of Wight County, Pedigree Chart
Lea of King and Queen County, Pedigree Chart
Littleton, 95 pp.
Merier, Coat of Arms Morgan Pedigree Chart
Pace of Charles City County, Pedigree Chart
Peeples of Prince George County, Pedigree Chart
Reynolds of Isle of Wight County, Pedigree Chart
Scarborough of Isle of Wight County, Pedigree Chart
Slaughter, 2 pp.
Stuckey of Isle of Wight County, Pedigree Chart
Tilghman, Research File, 10 pp.
Turner of Bedford County, Pedigree Chart
Ware of New Kent County, Pedigree Chart
Waters of Stafford County, Pedigree Chart
Woodson of Henrico County, Pedigree Chart
© 2008 Pioneer Families LLC